Hurry! This special sale ends in
Showery® Eco-Flow
Regular price
$78.00
Sale price
$39.00
/
Hurry! This special sale ends in
---
Introducing The New Showery® EcoFlow
One more step towards a more enjoyable shower and an eco-friendly home.
The NEW Showery® EcoFlow increases your shower water pressure and reduces water consumption.
The Ecoflow uses an innovative combination of H20 laser perforated technology and 300 water saving micro-holes to transform your shower-significantly increasing water flow and saving you money.
"At last I can have a shower that has a decent powerful water spray" Lulu: Trustpilot. 
How does it work? The Ecoflow's 300 micro-holes force the water to shoot out at a much higher pressure - instantly giving you a more powerful shower whilst using less water.
Universal Fit - Quick & Easy Installation. Installing the EcoFlow is as easy as changing a light bulb. All you need to do is unscrew your outdated shower head and twist in the new one.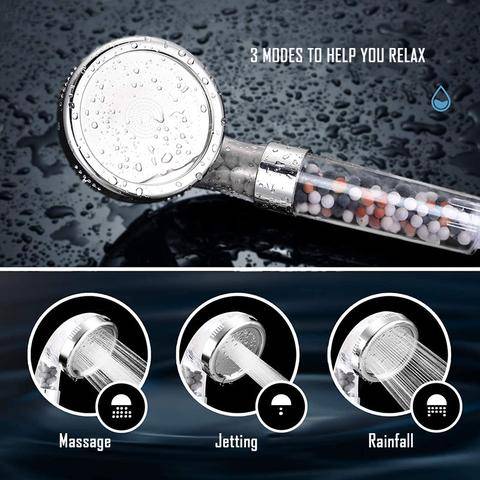 Enjoy 3 Shower Modes
Massage: our most powerful focused stream that melts away tension.

Rainfall: a more relaxing shower experience with a constant, steady water flow.

Jetting: a high-intensity spray that wakes you up and invigorates your senses.
The EcoFlow delivers the ultimate shower experience for the whole family, including adults, children and pets. It also works wonderfully in RVs or even yachts!
Water Purifying and Softening
Our new EcoFlow's mineral stones can soften water and filter out toxins including chlorine. Hard water and toxins dry out our hair and skin. The EcoFlow's water can be much gentler on your skin and healthier for your hair.
Mineral Stones Filtration
 Our mineral stone formula of Anion, Ceramic and Tourmaline stones can filter out dirt and toxins, including chlorine, fluoride, and pesticides.
If you have sensitive skin, live in a hard water area, or simply want healthier hair, the EcoFlow is perfect for you.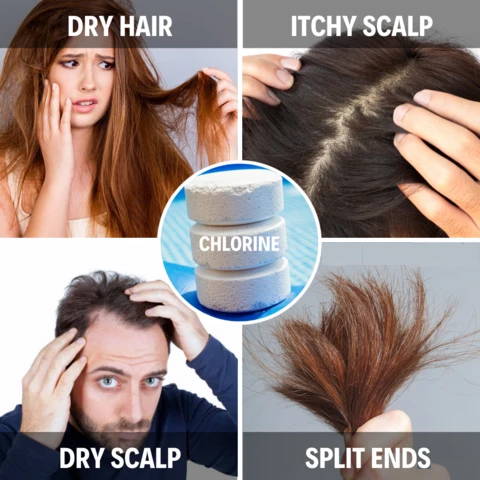 The Hidden Impacts of Chlorine
Chlorine removes the natural oils from your hair and skin, leaving them dry, rough, and damaged. Your hair and skin need these natural oils to remain smooth and healthy: chlorine removes those oils. Chlorine can also cause chemical reactions in your hair, changing the natural colour of your hair, weakening each hair strand, and causing split ends.
 Transform your shower, increase water pressure and reduce water consumption instantly with the New Showery® EcoFlow.
Eco-Flow Stop Button
The EcoFlow's Stop button, lets you easily stop the shower at anytime without having to use the taps- keeping the water temperature constant, which is great for washing your hair, children and pets.
Choose From 2 Handle Options:
With STOP Button
Best for:
Power showers, Mixer taps, Gravity Systems, Combi Boiler Systems.
Without STOP Button
Electric showers, RVs (Motorhomes), outdoor and camping showers.
Easy to Clean and Maintain
While other showerheads may gather unsightly limescale build-up, our anodized aluminium shower face allows mineral residue to simply be wiped away for an instantly refreshed look. This means less clogging and more consistent water pressure over the lifespan of your shower.
Our Mission
Showery's mission is to create innovative products that instantly improve your shower experience. We're committed to upgrading your shower rituals while leaving minimal impact on our environment.
We'll plant a tree for every order to help to tackle climate change.
Our product is typically packaged in eco-friendly materials, including a box and leaflet made from recycled paper. Occasionally, due to various factors, we may use alternative packaging, but rest assured, we're committed to minimizing such instances as we strive for sustainability without compromising quality.
Click here to find out more about Showery's green initiatives.
We want to make the planet a better place.

We're proud to support

 

WaterAid UK, One Tree  Planted 

and 

Trees For The Future.
Find out how we're giving back to the planet and people
here.
Reduce Water Consumption

We're committed to creating a shower that is better for you and the planet. Our innovative showerheads feature laser perforated micro-holes and a stop/start button so you can reduce your environmental impact and save money.
Innovative Design and High Quality
Showery® is a registered trademark, is made of premium materials. It is built to last as we maintain the highest quality standard. Other shower heads might be low-quality and not safe to use.
100% Satisfaction Guaranteed
Try the NEW Showery® EcoFlow risk free for 30 days. If you don't love it, we will simply give you a full refund. Our New Showery® showerhead also comes with a 24 Month warranty.
A ''no returns needed'' policy - if you have an issue with our product, we will simply replace it for you - no questions asked and no need to return the item to us
The Checkout Process is Guaranteed to be Secure with Visa, MasterCard, Amex, Discover, or PayPal
 
Showery® is proud to support the charity WaterAid UK - who enable the world's poorest people to gain access to safe water.
View Our Video Testimonials

#weareshoweryuk
Frequently Asked Questions:
Does it work with electric showers?
Yes, the Showery® Eco-Flow without the stop button works with electric showers.
You can order it by clicking the dropdown menu under 'style' and selecting 'without STOP button' when purchasing your Showery® Eco-Flow or click HERE.
The stop button feature is NOT suitable for electric showers or electronic thermostatic showers.
How often do you have to replace the mineral stones?
Every 12 months (depending on the impurities in the water in your area). You can order replacement stones HERE.
What is the difference between Showery® shower head and other similar shower heads sold online?
Showery® is a registered trademark, is made of premium materials. It is built to last as we maintain the highest quality standard. Other shower heads might be low-quality and not safe to use.
Will it fit my shower hose?
Showery® is able to simply screw onto any standard shower hose. All popular shower manufacturers use the same sized piping.
Transform Your Shower Today