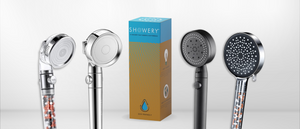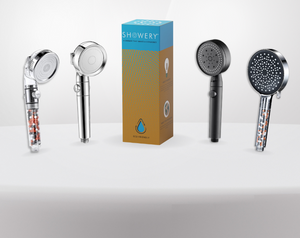 A SHOWER THAT MAKES A DIFFERENCE
Ready to boost water pressure, reduce water consumption and save money on your bills without costly bathroom repairs?
With Showery® shower heads, you never have to settle for an underperforming shower again.

Our innovative showerheads use the latest showerhead technology to increase water pressure and reduce water usage all while purifying and softening water.

A more enjoyable shower is just a few simple steps away with Showery!
Our Promise
We are confident you will be 100% satisfied with our products.
Our products are universal and fit the majority of showers, but if for some reason our product doesn't fit your shower or if there are any issues, we will replace it for FREE without the need to return it.
Our EcoFlow Collection
Be kinder to the planet and shop our eco collection. Our range of water-saving shower heads boost water pressure, and filter water and can save money on your bills.

Installation doesn't require any tools, all models simply screw into standard shower hoses by hand so you can upgrade your shower head in seconds! Shop the collection to find a style to suit your needs.
Improve Water Pressure
Get instant, powerful showers while doing good for the planet. The EcoFlow 2.0 uses an innovative combination of H20 laser perforated technology and water-saving micro-holes to reduce water usage and boost water pressure. A showerhead that makes a difference in your everyday routine and the environment.
Enjoy 6 Showers Modes
Have a more enjoyable showering experience and adjust the water pressure, by easily switching between the different modes to suit your mood.
Mineral Stone Filtration
Like a natural spring, we've incorporated mineral stones into our innovative design to soften and purify hard water.
Anion, ceramic and tourmaline stones can filter out dirt and toxins, including chlorine, fluoride, and pesticides—for a shower experience that feels great and is gentle on your skin and hair.
With less chlorine and other unwanted elements in your water, skin and hair looks and feels softer and healthier in no time.
BUY NOW
Effects of Chlorine
Chlorine strips the natural oils from your hair and skin, leaving them dry, rough and damaged.
Some alarming effects on your body could include altering hair color, weakening hair strands and creating split ends.
Removing chlorine from your shower's water stream is essential for maintaining healthy hair!
Healthier Hair and Skin
Boost the natural shine in your hair and skin by showering with only purified water. The EcoFlow's mineral stones can soften water and filter out toxins, including highly damaging chlorine. Gentle on your skin and healthy for your hair.
Hard Water Signs
Reduced water flow
Deposit and scale build up
Skin irritation and allergies
Appearance of gunk, and rotten smell.
Reduce Water Consumption
We're committed to creating a shower that is better for you and the planet. Our innovative showerheads feature laser perforated micro-holes and a stop/start button so you can reduce your environmental impact and save money. 
Our Mission
Showery's mission is to create innovative products that instantly improve your shower experience. We're committed to upgrading your shower rituals while leaving minimal impact on our environment.
We'll plant a tree for every order to help to tackle climate change.
In an effort to reduce our impact on the planet, Showery® Eco Boost is made with recycled materials, and you'll usually receive it in eco-friendly packaging. We continue to look for solutions to drive sustainability without compromising on quality. Occasionally, due to various factors, we may not be able to send/deliver the items in the recycled box, but please rest assured that we're always working to minimize these instances, and your support in our sustainability efforts is greatly appreciated.
We want to make the planet a better place. We're proud to support WaterAid UK, One Tree Planted and Trees For The Future.
 Click here to learn more.
Frequently Asked Questions
Showery® fits all showers including wall mounted and hand held showers, also fits to any standard shower pipe, hose, arm, extender or filter. All popular shower manufacturers use the same sized piping so it won't be a problem screwing your new handheld shower head into your existing shower. 
On average their lifespan is about 12 months (as tested by our customers). You can order replacement stones here.
We offer FREE Delivery. If you are not satisfied with your purchase or if there is a problem, we do not require customers to return the item to us, we will find a solution for you or fully refund you.
Showery® is a registered trademark, is made of premium materials. It is built to last as we maintain the highest quality standard. Other shower heads might be low-quality and not safe to use.
Yes, absolutely. The shower head comes with mineral stones included. Simply install the shower head and start using it straight away.
View Our Video Testimonials
''Very easy to install and water pressure is awesome - I love it!'' - Tina
''Agree it could help save water, soften water, overall my children like it'' - Ben
''I absolutely love this shower head! It increased my water pressure tremendously'' - Jesse
Transform Your Shower Today